Master Data Management projects
Keep an unified vision of the business data
Because of new needs, or because of their history, organizations today are multiplying the number of applications detaining the same reference data. The need for a unique view of these reference data becomes important, and implies the use of an appropriate data integration layer.
Yours needs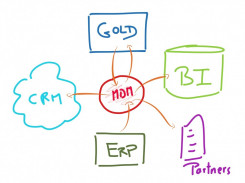 How can you enable the different departments of your organization to have access to the same reference data ?

How can you build your reference data ?

how to build your third-part-y repository, or to have a unique view of your products or your employees ?
You wish to synchronise your application repositories in real time.
Our answers
Stambia's native environment has Change Data Capture mechanisms that can detect changes in your data sources.
These changes will quickly be transmitted towards the Stambia MDM solution in order to build the reference data.
The reject management integrated inside Stambia integration flows or the reject rules defined in Stambia MDM, ensure data quality, deduplication and compliance upgrade of your data according to the business rules you have implemented.
Know more on the Stambia MDM solution...