Stambia Enterprise
For all data integration projects
Data management is vital for any company wanting to improve its productivity. Through control and mastery of the information, an organization can improve its agility, its profitability and its competitiveness.
Easy and simple access to data contributes to the agility and responsiveness of your organization, by improving your capacity to adapt and your visibility, but also by optimizing the service provided to your customers, partners and suppliers.
Stambia Enterprise is the complete data integration solution that addresses these issues.
Stambia Enterprise meets the technical requirements for ETL (Extract Transform and Load) and EAI (Enterprise Application Integration) types of projects.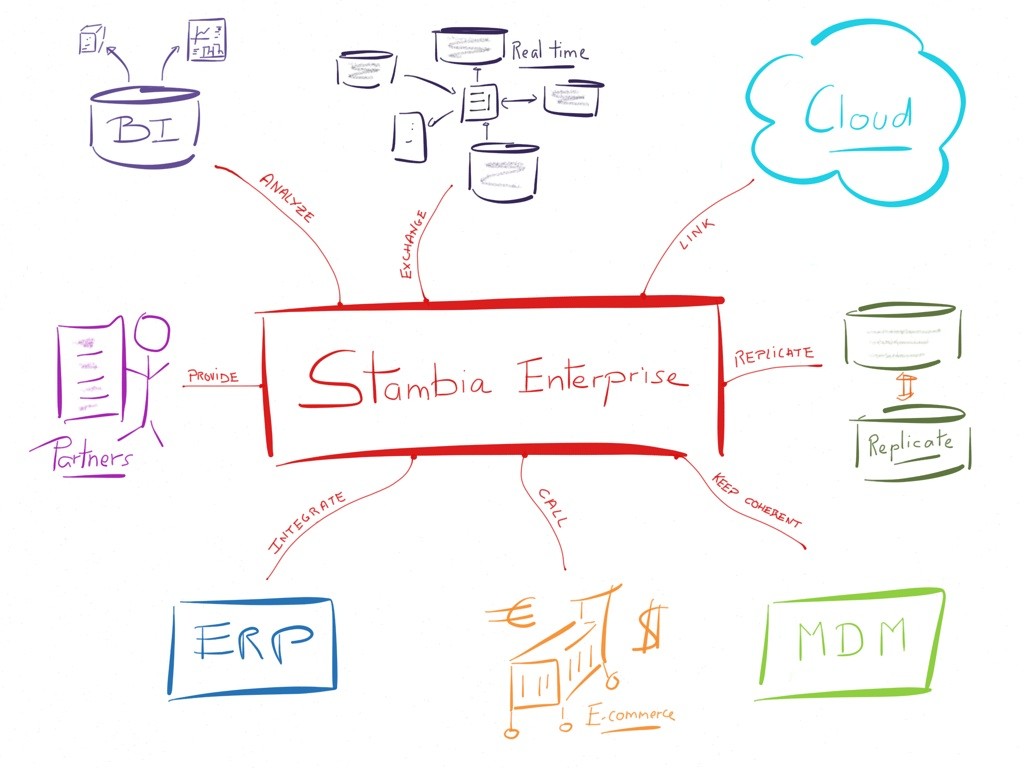 Covered project types
Stambia Enteprise can address any type of data integration project, whether projects addressing a very large amount of data or more real-time oriented projects
Here is a non-exhaustive list of feasible projects :
Loading of Business Intelligence databases (datawarehouse, datamarts)
Data exchange with third parties (XML, Web Services)
Data exchange between applications (batch or real-time, using or publishing Web Services)
Replication of data between heterogeneous databases
File integration
Master Data Management
Key concepts
Stambia relies on several key concepts :
An innovative approach based on models (Model Driven Approach) : This approach allows to increase the productivity, agility and quality of the projects.
A "Universal Mapping" vision: any technology can be loaded or read with the same simplicity, regardless of its structure and complexity (table, file, XML, Web Services, SAP Application ...).
An ELT architecture that maximizes performance, reduces infrastructure costs, and gives the ability to control and master what is being executed on the Information System
A Java architecture : Stambia can be installed on any Operating System (Any Linux or Unix, any Windows, Mac OS...)
Architecture
The Stambia architecture is made of three components :
The Designer is the Graphical Interface used to develop and test the data flows. The Designers rely on an Eclipse architecture. This facilitates the sharing of projects inside the team and offers a flexible management of the development.
Runtimes are the processes that execute the jobs in production. They are based on a Java architecture facilitating their deployment.
Stambia Analytics is a web component dedicated to production teams : configuration, deployment scheduling and monitoring of the jobs.