They are the current world champions and will have to defend their title. Competition promises to be fierce, but we believe in them!
Once again this year, Stambia is pleased to sponsor the Dragon's Angels for the Dragon World Cup.
Please mark the date: June 15th and 16th, 2019 on the Lac d'Annecy (Haute-Savoie, France).
Do come and cheer for the 2018 title holder!
A few explanations: this is the world championships for team stand up paddle, a race that is both challenging and festive.
Our 6 French rowers in stand-up paddle, winners of the previous edition, are ready to double their title. ( Discover agenda on Dragonworldseries.com )
Perfect synchronization between teammates, agility in the movements, speed of execution, are among the key points to win thiscompetition.
"It seemed obvious to us that these qualities of success, represented by the Dragon's Angels team, are part of Stambia DNA. "Paddling" matches the values supported by Stambia: it is simple, innovative and universal " says Fabien Bruder, CEO of Stambia.
The whole Stambia team is proud and enthusiastic and encourages this young team, wishing them greatest success inthese championships.
Follow all the news of the event on social networks with the hashtag: #GivesYouSUP

Facebook - Twitter - Instagram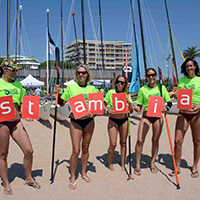 Photo : Virginie SAMSON, Karine HELAINE, Carine MAYER, Rebecca BERTHOMIEU, Anne-Gaëlle DEVOS et JulieTOQUEVILLE will compete as « Dragon's Angel »