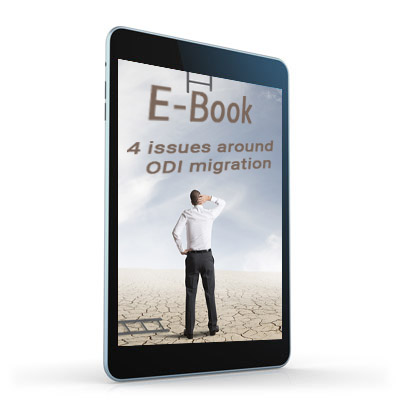 This document presents briefly the migration issues with the new versions of Oracle Data Integrator (ODI 12), and provides elements of response.
It raises the question of the management of digital transformation projects with traditional technologies, and proposes a vision bringing agility and efficiency.
For more details, additional resources are listed in the last part.
Content :
Oracle Data Integrator (ODI), how to manage Big Data, No SQL, Web Services and APIs?

Oracle Data Integrator : limits for Big Data and Nosql projects
Oracle Data Integrator : complex architecture and implementation
Oracle, a customer relationship that seems difficult and ownership costs soaring...
Moving to Oracle Data Integrator 12: a challenge

The agile data preparation with the Stambia ETL

Oracle Data Integrator : easy and seamless migration with Stambia
Accelerate Digital Transformation with Stambia
Data Integration : productivity and performance gains with Stambia
Stambia, an agile customer relationship

Oracle Data Integrator towards Stambia : the 3 proofs of success

A migration to Stambia: reliable and secure
Stambia, many customers can talk about it
Stambia, a measurable and immediate ROI

About Stambia