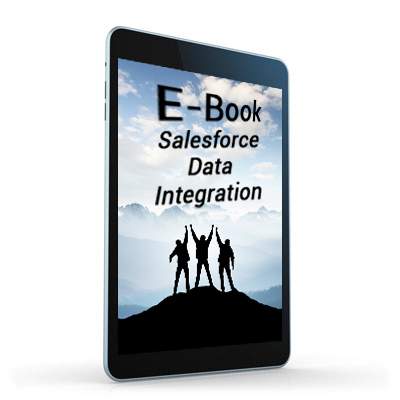 In the age of digital transformation and of resulting business transformations, organizations need to reconsider the vision they have of their customers.
The implementation of a CRM platform such as Salesforce is a part of this logic of developing a 360° vision of the customers.

However, setting up Salesforce is not an end in itself. Key success points of this "Client 360" strategy are the complete integration into the Information System and the organization's processes, and the design of an effective Salesforce integration architecture.

This document focuses on the value of building this data-centric architecture and proposes a way to achieve a fast and relevant Salesforce integration.
Contenu :
Salesforce, the benefit of the usage of a data integration solution

Ensure data quality for an effective 360° customer vision
Interfacing Salesforce with the Information System

Salesforce : the 6 benefits of data integration

Migrating to Salesforce.
Salesforce : Regular and automated data import and merging
Extracting Data from Salesforce for Marketing Automation
Analyzing Salesforce Data (BI) for Lead Tracking, Campaigns, Opportunities
Integrating Salesforce with Web Applications and controlling through API, Micro Services
Salesforce, real-time exchange and business workflow management

Stambia : Implement a successful Salesforce data integration

Stambia for Salesforce, a native, powerful and industrial solution
Stambia, an agile and fast solution for Salesforce
Beyond Salesforce, Stambia a Unique Solution for BI, Big Data, API, Micro-Services

About Stambia