Following the Peruvian and Mexican markets, Stambia is now aiming to reach Brazil.
In charge of this operation, Luis Villanueva Peyre, half French, half Peruvian, has a professional background in computer science.
Here is his portrait and the vision he has for the coming year.

Luis Villanueva Peyre, director of the LATAM subsidiary of Stambia, Peru, has had a self-taught career. He spends his childhood in Lima, before arriving in France in 1979.
At the age of 19, with his baccalaureate in hand, he begins studying biology at the University of Montpellier and discovers computer science "accidentally but passionately".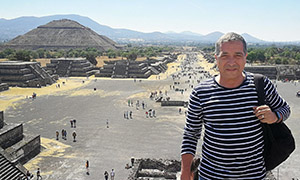 In the 80s, micro-computing for everyone is taking off and the Franco-Peruvian gets trained on the job at the university. This accumulation of knowledge opens the doors of a first service provider, Atya Informatique.
He is propelled as a software engineer in mainframe environments (Cobol CICS, MVS, etc.). However, a thirst for travel sets in, so, during two years, he goes to Spain to launch a subsidiary for another service company, ELS..
Luis Villanueva Peyre spends the 90s in Peru, still evolving in the IT world. In 2000, he once more crosses the Atlantic and receives training on a promising ETL, published by the Lyon-based Sunopsis. It is in this company that he meets Fabien Bruder, future co-founder of Stambia. In 2006, Sunopsis is bought by Oracle, and is renamed ODI (Oracle Data Integrator). The paths of the two men part.
The knowledge acquired at Sunopsis enables Luis Villanueva Peyre to become a Technical Architect for Business Intelligence (BI) solutions. Hired in this capacity by HP, he covers some twenty countries in the EMEA zone and travels quite a lot...
For family reasons, he returns to Peru. Fabien Bruder then remembers his fondest memories and immediately thinks of him when it comes to creating Stambia LATAM in 2017.
"Starting from scratch in a region and establishing a brand takes a long time," he recalls.
"You have to go patiently through the steps, multiplying marketing actions and gathering references."
After a long and fruitful incubation period, 2020 was to be the year of realization for Stambia in South America.
"The pandemic slowed down this momentum. But it's only a step backwards to jump further ahead!".
Doubled sales since the beginning of the crisis
Indeed, despite the current climate, Stambia has done better than resist, with sales doubling since the beginning of the health crisis. "We offer an anti-cyclical product," continues Luis Villanueva Peyre.
"In times of crisis, companies have to continue innovating while reducing their costs.
Stambia technology is seen as a project accelerator. Moreover, some players such as insurance companies or mass distribution companies cannot stop".
Among its references, the publisher boasts Pacifico, the leading insurer in Peru, and Prima AFP, the leading provident fund manager, as well as the telephone operator Telefonica Peru, and the distributor Grupo Effectiva.
The latter's project is particularly interesting given the technological challenges it involves. Stambia made it possible to interface its commercial platform, serving three hundred stores, with SAP. The real-time exchanges between the two environments are done via web services.
After the creation a year and a half ago of a subsidiary in Mexico, where the first references are starting to come in, Stambia now plans to tackle Brazil: two massive markets with populations of over 126 and 210 million inhabitants, respectively. The Mexican market is particularly dynamic and benefits from its proximity to the United States, and Brazil retains its full potential despite the economic, health and political context.
"Conversely, small Latin American countries are purely consumers, they don't produce technology," the expert continues. "Only foreign brands with strong notoriety are established. It is more difficult to break through, but, on the other hand, competition is less fierce."
Luis Villanueva Peyre relies on a team composed of a sales engineer and, for the pre-sales phase and technical support, two solution architects. He also has a solid network of local and international partners. GFI is thus firmly established in Mexico and Peru, and Keyrus in Brazil.
In 2020, the deployment of Stambia in South America was about to be accelerated, but the health crisis wreaked havoc with Luis' well-ordered plans. 2021 should finally be- according to this inveterate optimist- the year in which all the efforts made over the past three years will finally come to fruition.
ABOUT THE AUTHOR :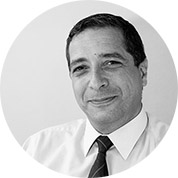 Luis Villanueva holds a Master's Degree in Management and a Master's Degree in International Studies from the Sorbonne. He has been Americas Operation Manager at Stambia since 2017.
With more than twenty-five years of experience in the IT industry, including fifteen years in designing data governance and Business Intelligence solutions for companies in all industry sectors, Luis has been responsible for the realization of projects in all phases of the engagement lifecycle: from business case development and response to bids to the implementation of BI and Data Integration solutions.
Luis joined Stambia in 2017 after seven years at HP, where he worked on projects in more than ten countries in the Middle East, Africa, Europe, and North and South America.